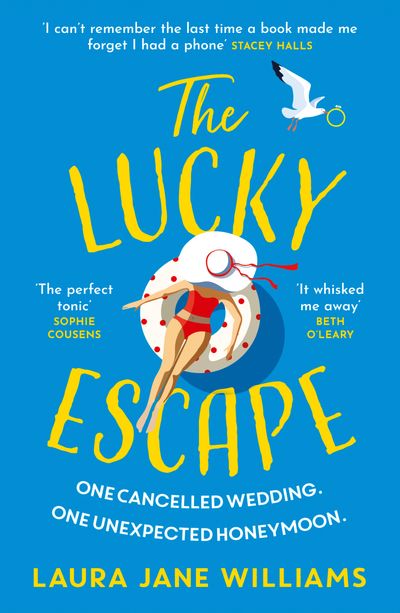 The Lucky Escape
'Laura's best book yet' Beth O'Leary
'I can't remember the last time a book made me forget I had a phone' Stacey Halls
PRE-ORDER THE BRAND NEW NOVEL FROM THE INTERNATIONALLY BESTSELLING AUTHOR OF OUR STOP, TAKING OFF JUNE 2021…
ONE CANCELLED WEDDING
When the day finally comes for Annie to marry Alexander, the last thing she expects is to be left standing at the altar. She was so sure he was Mr Right. Now, she has no idea how she could have got it so wrong.
 
ONE UNEXPECTED ENCOUNTER
After a chance meeting with Patrick, an old friend who reminds her of who she used to be, Annie takes a vow of her own: she'll say yes to every opportunity that comes her way from now on.
ONE SPARE TICKET FOR THE HONEYMOON
Could a spontaneous trip with Patrick be the way to mend Annie's heart? She's about to find out as she embarks on her honeymoon – with a man who's not her husband…
Perfect for fans of Beth O'Leary, Mhairi McFarlane and Anna Bell!